Freya: Empowerment Ritual Bath + Body Oil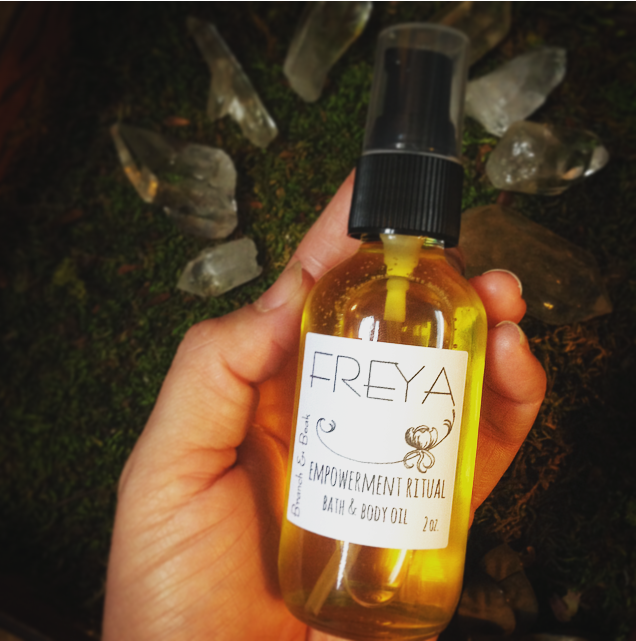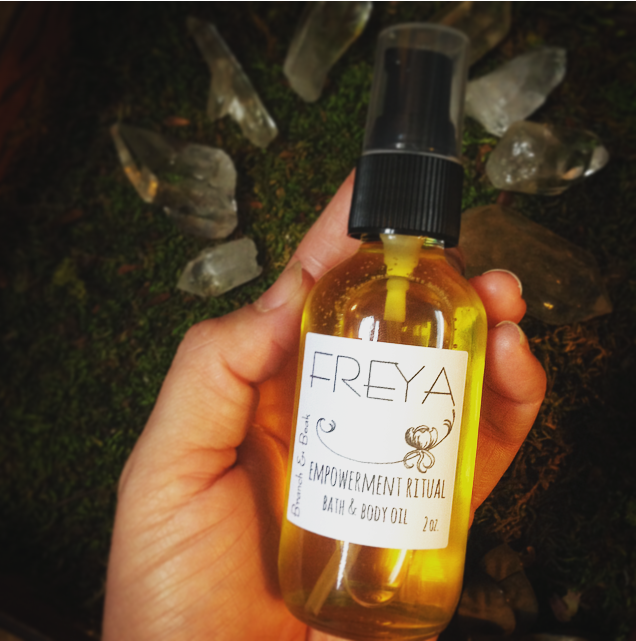 Freya: Empowerment Ritual Bath + Body Oil
Freya is the Norse goddess of love, beauty, war, fertility, crops, wealth, divination, and magick. She is fierce, intelligent, and strong. This oil is simple but fiercely strong with vibrations of Freya. It was created to aid in holding your inner light aflame with ferocity. Use Freya for cleansing the body and spirit of negative energy before entering a bath. More specifically, a ritual bath, where intentions of self care are involved.
This oil of course, can be used any time; before a bath, after a bath, in the middle of the day at work! Due to the combination of oils, it is considered a "dry" oil, meaning that it absorbs quickly and does not leave an overly "greasy" feeling on the skin. However, when using this in the bathroom or before the bath, be mindful that it will make your tub and other surfaces slippery, PLEASE STEP WITH CARE.
First and second photos are of the new packaging; Freya is now packaged in oil pump treatment bottles for easier use.
You receive a 2 oz oil pump bottle, dispense into your palm and rub lovingly into skin from toes up to your heart before or after a bath or shower.
▲within: golden organic jojoba oil, organic fractionated coconut oil, lavender angustifolia essential oil, rose absolute, organic paraben free vitamin e
▲If you are pregnant or nursing, please consult your physician/midwife/etc/ before using any product but especially products containing essential oils,
▲If you have sensitive skin or have many allergies, as you would ANY product, do a test application on a small patch of skin before using liberally.
▲The products I make are not meant to take the place of your doctor's advice, I make no claims about them curing, treating, or preventing serious illness or disease. Please be sure you are familiar with and not allergic to the ingredients before purchasing.
▲It is important to know that magick is not an escape route, it is not a 'pill' that will cure your life's woes. Should you use any magickal tools I offer, they will merely be a powerful backdrop in your ritual for change.
▲There is never ever any use of fragrance oils, petroleum products, or parabens in Branch & Beak products.