Crystal Essence Anointing OilS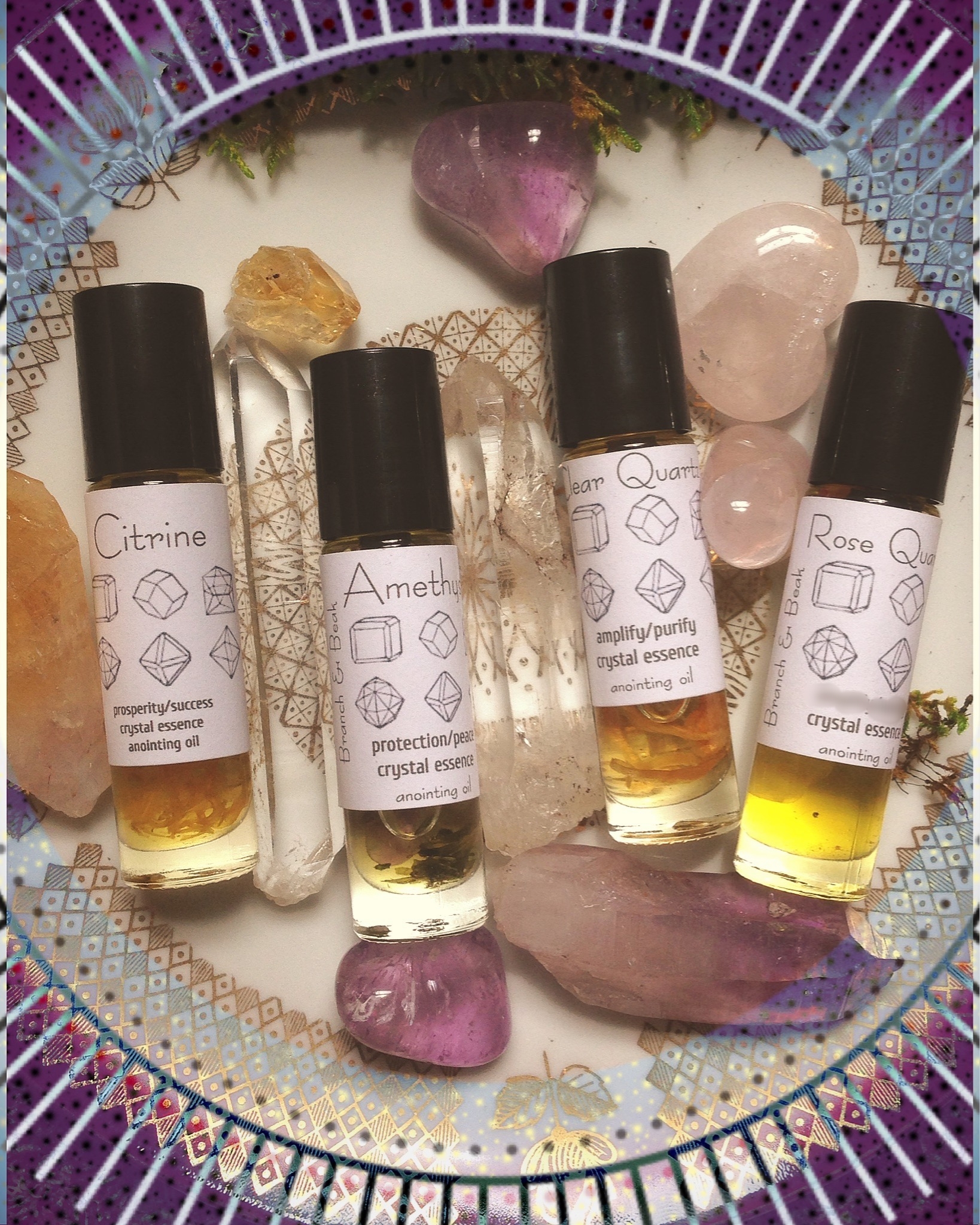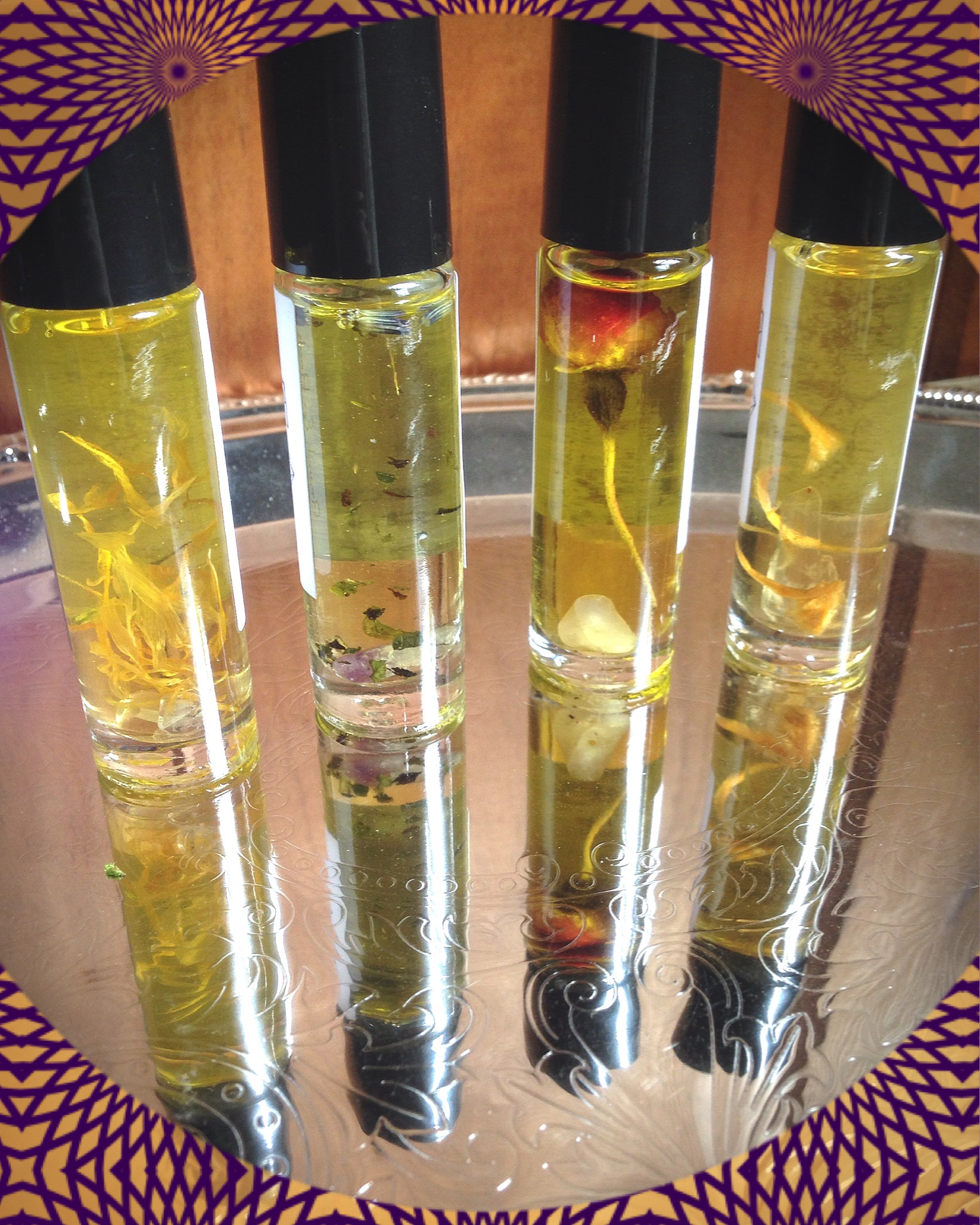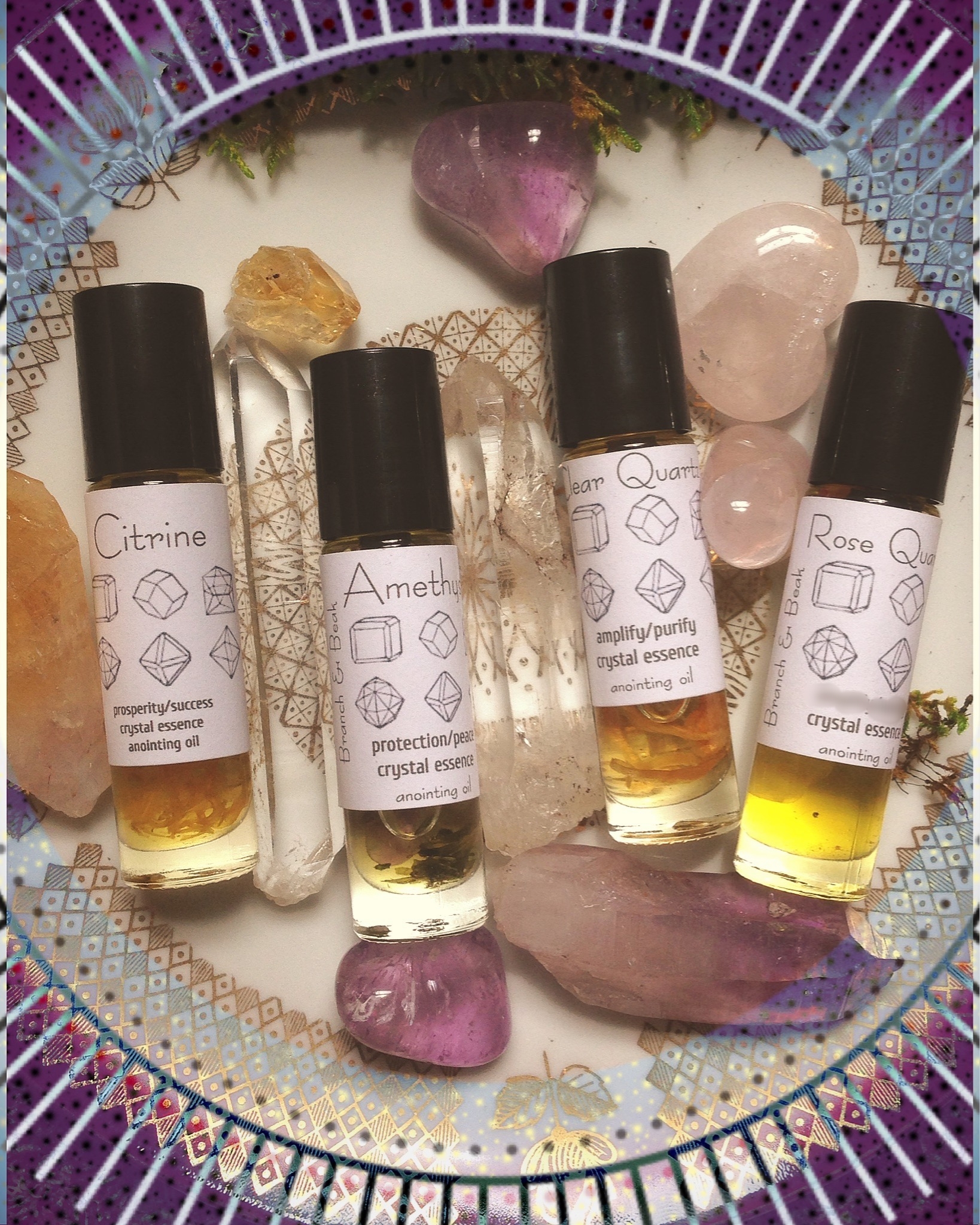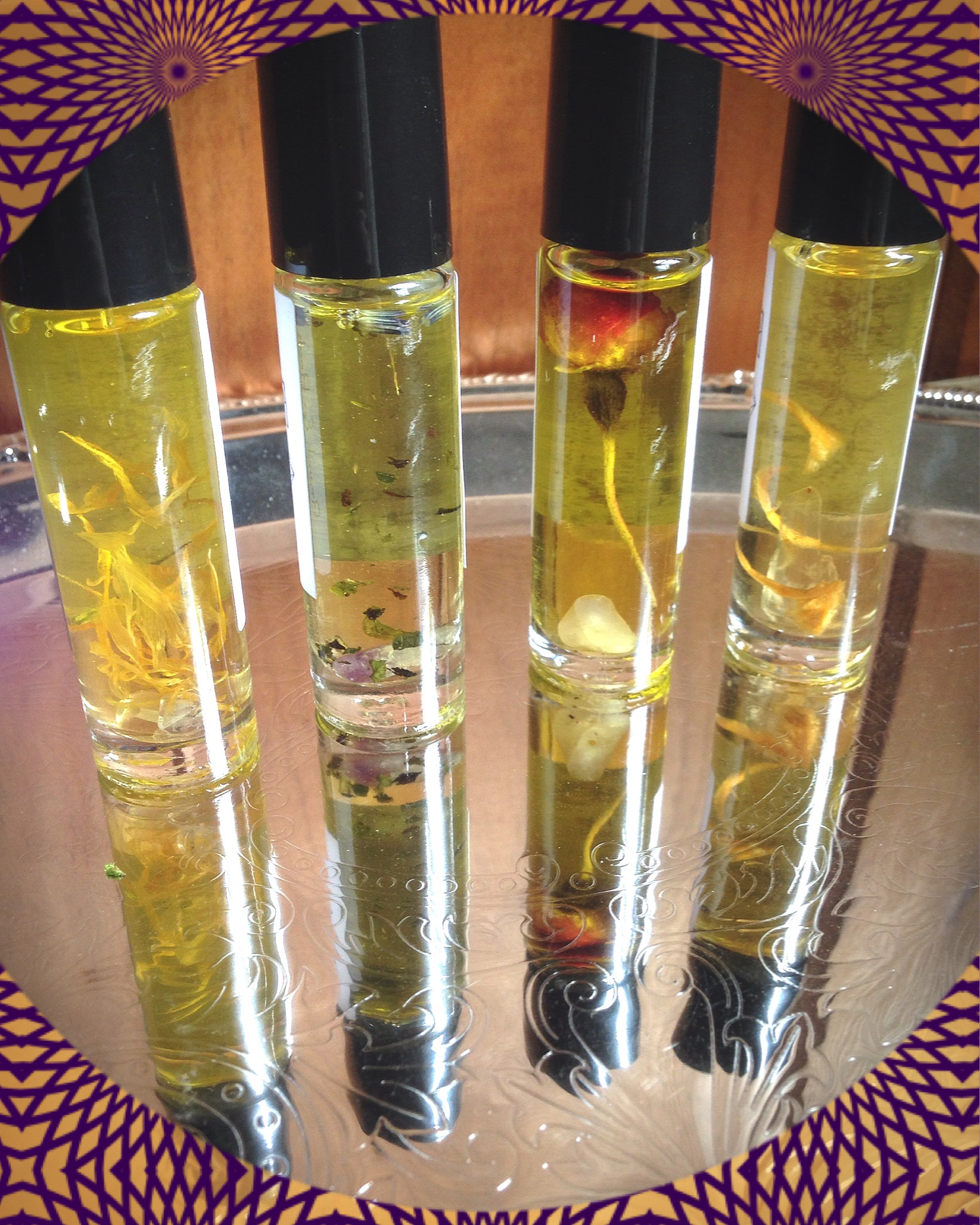 Crystal Essence Anointing OilS
QUARTZ VIBRATIONAL ANOINTING + DRESSING OILS
Each essence contains the vibration of the specific crystal indicated. These Quartz essence oils can be used as anointing oils, candle dressing, subtle perfumes, or ritualistic tools for endeavors of the spirit. Each oil has a specific herb included for it's supportive herbal and magickal properties. For the purpose of being thorough, I have cleansed all the crystals used for these infusions together and separately to ensure their neutrality and/or positivity, and readiness for use.

▲I'd like to point out that while three of these crystal essence oils have essential oils added, all four are more magickal and vibrational than they are scented. Which is to say they are not formulated to be perfumes but tools of ritual. Tools of empowerment.

These anointing oils all come in a 10 ml roll-on bottle.

▲base ingredients for each: organic golden jojoba oil, pure fractionated coconut oil, quartz crystal types, organic dried herbs and pure essential oils.

Read on for properties and purposes of each:

►AMETHYST+LAVENDER
-Protection/Peace-
Amethyst has a high frequency that purifies the aura of any negative energy or grim vibrations. For travelers and soldiers through out history, it was kept and worn as a protection from treachery and surprise attacks from enemies. For modern wearers, it does the former in an updated manner and also gives protection against ill-willing foe or psychic vampires. Amethyst corresponds with the Third Eye, aiding and enhancing cognitive perception as well as accelerating the development of intuitive and psychic abilities. Anoint Third Eye (between the eyebrows area)for expansion and opening while meditating, rub on temples to still the mind, anoint wrists, candles, bring on road trips or airplanes for protection, peace of mind, and safe travels.
herb and essential oil used: organic lavender flowers, organic lavender essential oil

____________

►CITRINE+CALENDULA
-Prosperity/Success-
Citrine is the premier stone of manifestation, imagination, and personal will. It is popularly known as the success crystal because it is often used for attracting prosperity and manifesting abundance. It also encourages generosity and sharing that good fortune. It's wearer can also use it for the reduction of toxic thought forms and patterns. Citrine does not store or accumulate negative energy, but instead dissipates, transmutes or grounds it. Rub a little of this oil into your wallet, directly onto your cash or point of sale/ register. You can also use the oil to anoint wrists when working on projects, when manifesting for your small business to become big business, or when you're trying to make ends meet and need a little push to know you can get through.


herb and essential oils used: organic local calendula, organic bergamot (bergaptene free) essential oil
_____________

►CLEAR QUARTZ+PALO SANTO
-Amplify/Purify-
The universal power crystal, Quartz, enhances energy by absorbing and storing; amplifying and balancing. It focuses intentions, which is why it is excellent for manifesting and healing. Quartz is also beneficial for cleansing and purifying the mental, spiritual, and physical planes. The crisp clarity of the crystals used is what brings this oil essence it's premier vibrations; retaining knowledge and transmitting your intentions. Can help with concentration, study, dream work, astral projection. Rub on temples for concentration, wrists and pulse points for aromatic meditation, set intentions for entire bottle by holding ceremony with it and charging with your specific needs/wants. Possibilities for this crystal essence are numerous because of it's versatility.


herb and essential oils: slice of palo santo wood, pure palo santo essential oil

_______________

►ROSE QUARTZ+ROSE BUD
-Compassion/Patience-
The crystal of unconditional love, Rose Quartz carries feminine energy, vibrations heavy with compassion and peace. It aligns directly with the Heart Chakra, dissolving fresh emotional wreckage, old emotional wounds, fears, resentments, shame, etc. It is the mothering crystal; encouraging patience, self-nurturing, and bonding with self and others. A wonderful crystal to have at a birth, kept near the mother or held by her. This essence is gentle enough that it can be used to rub on pregnant bellies, or on mother's temples during labor if she wishes. It is calming and reassuring.
Rose Quartz essence may also be placed by the bed and used to anoint each person in a partnership either to restore trust and harmony, and encourage unconditional love, or to activate the Rose Quartz aphrodisiac properties. Anoint pulse points and heart (below or behind left breast) for nurturing and empowering yourself. Dress candles for spellwork to do with love.

herb used: organic dried pink rose buds, NO essential oils are used in this essence. I have formulated this to be safe for pregnant peoples.
_______________

▲Botanical oils should not be exposed to high temperatures or left in direct sunlight.

▲If you are pregnant or nursing, please consult your physician/midwife/etc/ before using any product but especially products containing essential oils, however lavender is known to be safe for pregnant peoples

▲If you have sensitive skin or have many allergies, as you would ANY product, do a test application on a small patch of skin before using liberally.

▲The products I make are not meant to take the place of your doctor's advice, I make no claims about them curing, treating, or preventing serious illness or disease. Please be sure you are familiar with and not allergic to the ingredients before purchasing.

▲It is important to know that magick is not an escape route, it is not a 'pill' that will cure your life's woes. Should you use any magickal tools I offer, they will merely be a powerful backdrop in your ritual for change.

▲There is never ever any use of fragrance oils, petroleum products, or parabens in Branch & Beak products.